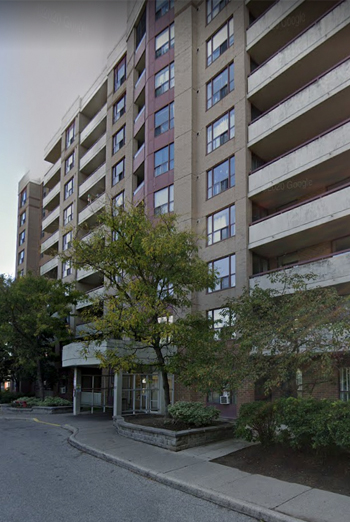 Victor Davis Non-Profit Homes
Victor Davis Non-Profit Homes is a ten storey private non-profit social housing building close to downtown Guelph in "The Ward" neighbourhood, with rent geared to income (RGI) and Market rent (lower end of the market rent) apartment units close to downtown Guelph overlooking the Speed River, and is close to parks, walking trails and community services. 
Victor Davis Non-Profit Homes houses families, couples and single people at 87 Neeve St. in Guelph. Some tenants pay market rent and some pay rent that is geared to their income. All tenants are encouraged to make Victor Davis Non-Profit Homes their home. 
114 households live in Victor Davis Non-Profit Homes, on ten storeys made up of:
77 Two Bedroom, of which 9 are accessible
19 One Bedroom, of which 9 are accessible
18 Three Bedroom
Amenities
All units have a balcony and their own storage room. There is an underground parking garage as well as limited above ground parking for visitors.  The parking lot in front of the building is shared with the building next door.  Access is by two stairwells and two modernized elevators.  The building has on site laundry with washers and dryers and a laundry card reload kiosk provided by Coinamatic.  Our Community Room can be reserved by tenants, and community groups that serve our tenants.  There is a fenced playground located at the west side of the building for the use of our tenants and their visitors. 
We Follow Provincial, Regional and Municipal Law
Our organization is overseen by a group of committed, professional people who volunteer their time to run our Board.  The Board provides oversight and strategic direction to our staff and ensures long term planning and sound financial and risk management are in place. 
Our annual operating expenses are paid through rent from tenants and provincial subsidies managed by the County of Wellington Housing Services. We also save money from year-to-year to replace things like heating boilers, mechanical systems and upgrades to our elevators. 
Environmental Sustainability
Victor Davis Non-Profit Homes is committed to environmental sustainability. Our organization investigates sustainability and invests in more efficient technology.  We work hard to minimize our impact on the environment. We have installed energy efficient boilers and make up air units and LED lights in all of our lighting fixtures which reduces the kilowatt hours of energy use.Our tenants play an important role in our commitment to sustainability.